Discover more from The Signorile Report
Exposing far-right extremism and corporate media complicity. News, politics, analysis, interviews by journalist & SiriusXM radio host Michelangelo Signorile.
Over 9,000 subscribers
GOP's death cult caucus embraces Trump's call to violence
It's only a matter of time before Republican leadership backs insurrection and fomenting mass death as a response to coronavirus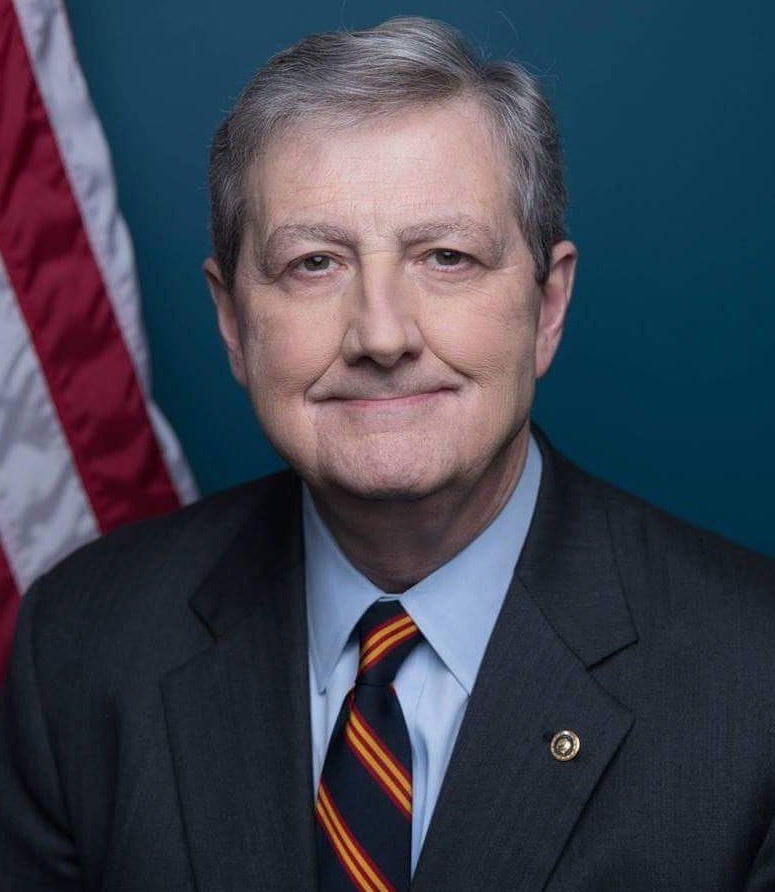 Senator John Neely Kennedy leads the GOP death cult caucus
The Washington Post calls it the growing "open it up" caucus of the Republican Party.
But it should aptly be called the GOP death cult caucus, as more GOP elected officials not only publicly push to lift statewide stay-at-home orders way too early; they're standing by as Trump encourages violent insurrection to make it happen, tacitly approving.
Senator John Neely Kennedy, the Louisiana Republican who last December said of House Speaker Nancy Pelosi that "it must suck to be that dumb," proved himself to be the ultimate dope in Congress when he bleated on Tucker Carlson's Fox News show that "we've gotta reopen, and when we do the coronavirus is gonna spread faster."
The statements of elected officials like Kennedy are in line with protests that have taken place in Michigan, Idaho, Ohio, North Carolina and elsewhere this week calling for an end to stay-at-home orders — with attendees donning assault weapons and Gadsden flags — which have been a throwback to the well-orchestrated antics of the tea party during the Obama era.
These protests may look organic — and the people who turned out may represent a fringe — but as was reported by several news outlets this week, they're highly organized by right-wing political groups (like the Michigan Conservative Coalition and the Michigan Freedom Fund, which have ties to Education Secretary Besty DeVos's family); white supremacist militia groups, like the Proud Boys; and religious extremists of all stripes — all connected in different ways to Trump world.
Pew Research Center polling showed this week that the vast majority of Americans (two-thirds), including most Republicans, support keeping economies closed and staying at home until the virus is under control. But that doesn't stop the noisy, threatening far right extremists in the GOP base from exerting influence on GOP lawmakers and leaders — especially with the president of the United States leading the charge and coordinating with the groups organizing the protests.
Trump's crazed "LIBERATE" tweets this week coincided with planned protests in Virginia and Minnesota, after Michigan's protest in Lansing, which blocked ambulances from taking patients to a local hospital.
It was yet another unhinged act that will no doubt lead to the same kind of violence Trump inspired in El Paso, Pittsburgh and elsewhere. Democratic leaders spoke out loudly, including in this impassioned thread by Governor Jay Inslee of Washington.
But Republican elected officials have not only been muted in criticizing Trump's abhorrent call to violence; they're now joining Trump's pushing governors to re-open, even after Trump had said he'd leave it to the governors to decide on their own.
GOP legislators in Michigan, Pennsylvania and elsewhere are introducing legislation to end the restrictions and even reduce governors' powers entirely. This, even as coronavirus has yet to reach a peak in states like Michigan and North Carolina as well as in states led by Republican governors that didn't put lock-downs in place and have seen cases rising dramatically, such as South Dakota where there's been a 205% rise in cases.
In Congress, other members of the GOP's death cult caucus include the chairman of the House GOP's Freedom Caucus, Representative Andy Biggs of Arizona, a state that has yet to reach its peak of cases, who is advising Trump on "re-opening" along with 21 GOP members of Congress; and Representative Trey Hollingsworth of Indiana.
In an Indianapolis radio interview, Hollingsworth stunningly stated, "In the choice between the loss of our way of life as Americans and the loss of life, of American lives, we have to always choose the latter."
To be sure, there are Republicans who are warning against opening up too soon, such as Senator Lamar Alexander of Tennessee, who rightly calls for more testing first. And some governors, like Brian Kemp of Georgia, who put stay-at-home orders in place way too late, are now pushing back against lifting them too soon, knowing that the outbreaks they've seen — and which they allowed to grow, as they bowed to Trump while invoking nonsensical excuses — could get worse.
But even Republicans like Ohio governor Mike DeWine, who wisely ordered a lockdown early and is working with Democratic governors in the Midwest on re-opening plans, is loathe to criticize Trump. While defending against protesters' attacks on his stay-at-home order, he nonetheless downplayed Trump's tweets calling for insurrection, telling National Public Radio, "You know, to fixate on two or three tweets by the president of the United States doesn't make any sense to me."
Downplaying calls to violence, however, is dangerous and allows them to go unchecked. We know how this works, as we've seen Republicans tie themselves in knots over and over again in trying not to offend Trump. Even as House Minority Leader Kevin McCarthy on Thursday urged caution and, according to the Washington Post, promoted contact tracing via cellphone apps — something the protesters oppose as well — it's only a matter of time before he caves in.
Trump will demand GOP leaders fully comply with his reckless push to open the government rapidly and without enough testing or contact tracing by the federal government. They will not only then fervently defend him —and thus also allow for people to die — but will promote his calls for insurrection while claiming there's nothing wrong or violent about it. We know, because we've seen it all before, many times.