Discover more from The Signorile Report
Exposing far-right extremism and corporate media complicity. News, politics, analysis, interviews by journalist & SiriusXM radio host Michelangelo Signorile.
Over 9,000 subscribers
Mike Pompeo believes he's the messiah
And apparently had a State Dept. employee walking his dog and picking up laundry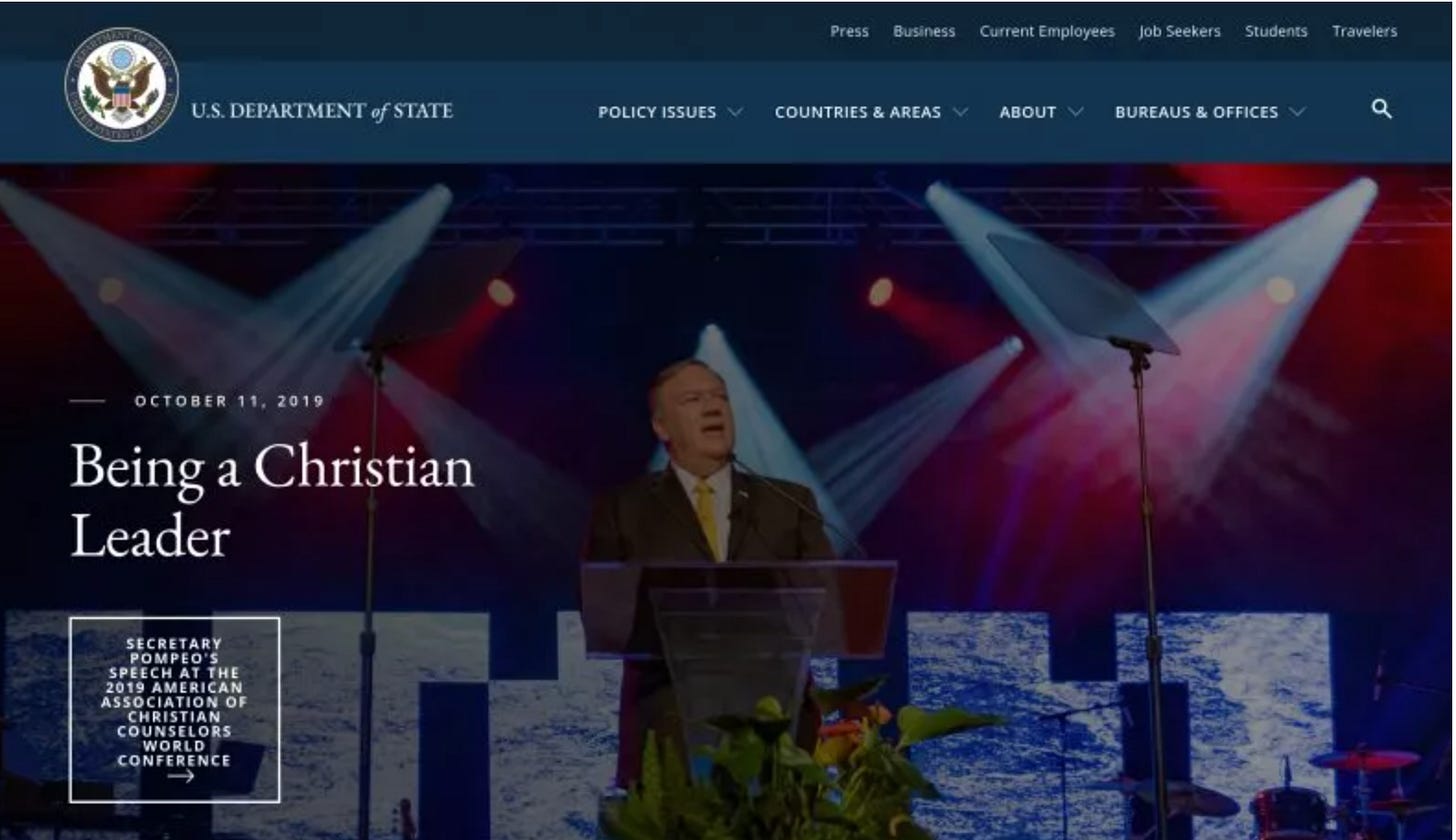 One investigation opened by the now-ousted State Department inspector general, Steve Linick, had apparently focused on Secretary of State Mike Pompeo having a State Department political appointee walk his dog, pick up his laundry and make dinner reservations for his wife, among other personal errands, reports NBC News.
Congressional Democrats had been looking into similar reports last year, but launched a full-blown inquiry last week after Trump fired Linick on Friday night. It was yet another Friday night massacre by Trump, who has recklessly fired inspectors general while exacting revenge or thwarting oversight. The big difference in this case, however, is the request for the firing reportedly actually came from Pompeo to allegedly cover up his own wrongdoing. 
A State Department whistleblower last year had also reported that an agent was asked by the Pompeo family to pick up Chinese food, pick up the family dog from a pet groomer and pick up Pompeo's adult son at Union Station and drive him to the family home.
This is of course the same Mike Pompeo who has promoted himself as America's "Christian Leader," complete with a speech he posted on the home page of State Department website, which brought charges of violating the Constitution and promoting evangelical Christianity as the guiding principle of American foreign policy.
"Given Secretary Pompeo's record, it comes as no surprise that the State Department is using taxpayer money to promote Christian nationalist talking points," American Atheists President Nick Fish told Newsweek at the time. "This is a man who once called Jesus Christ 'the only solution for our world' and said that Americans had a duty to 'worship our Lord and celebrate our nation at the same place' until the rapture."
Pompeo, who has called homosexuality a "perversion" and said during his Senate confirmation hearing that he is opposed to marriage equality — the law of the land in the United States and many countries around the world —has promoted the belief of many evangelicals that Trump was sent by God. 
But while Trump clearly agrees that he is savior and king — as any cursory glance at his Twitter feed and actions as president show — Pompeo, a faithful lieutenant of Trump's, no doubt believes he's the prince and heir apparent. That Trump would actually fire an inspector general for him — even as Trump is deep in enough shit right now — only attests to how valuable Pompeo is to Trump.
Many view Vice President Mike Pence as the primary evangelical force in the White House. And by nature of his title, a heartbeat away from the presidency, that is true on paper. Pence has certainly used his power to craft religiously-bigoted domestic policy. But Pompeo is the more combative warrior for the movement, uncompromising and taking on the world as Secretary of State. While Pence sometimes waffles — one day he doesn't wear a mask in a visit to the Mayo Clinic, but the next day he does, bowing to public shaming — Pompeo's loyalty to Trump is constant.
While there's been much talk about Pompeo possibly stepping down to run for a U.S. Senate seat in his home state of Kansas this year, there's also been talk, based on his trips to Iowa and elsewhere, of Pompeo prepping for a presidential run in 2024.
Having anointed himself as America's "Christian Leader," it's easy to see how Pompeo believes he should have loyal servants, including within the government, who walk his dog, make reservations for his wife and run his errands. The messiah complex is a heavy thing. During his time as CIA director under Trump, Pompeo "referenced God and Christianity repeatedly in his first all-hands speech" and in "a trip report while traveling overseas," according to Foreign Policy.
Pompeo, deeply anti-Muslim, views evangelical Christianity as the "only solution" in a holy war "between the Christian West and the Islamic East."  As secretary of state, he sees himself as leading that war. He has grandiose plans, and, in his mind, is a very important person with a powerful movement behind him. People should be doing things for him — serving him and the cause — and no inspector general is going to be allowed to get in the way of that.
Having Trump fire Linick is simply the Lord's will, part of the master plan of Mike Pompeo's crusade.
(Just a reminder that if you're not a SiriusXM subscriber, through May 31 you can listen for free to my SiriusXM show — live each weekday, 3-6 ET — and to a ton of other talk and music channels by downloading the SiriusXM app and streaming on your phone, or you can listen online here. I'm on SiriusXM Progress, channel 127, where you'll catch all of our great progressive political shows. No credit card info taken or trial, just sign up and listen.)