Discover more from The Signorile Report
News, politics, analysis, interviews, discussions by journalist & radio host Michelangelo Signorile
Over 9,000 subscribers
Donald Trump's embrace of mass death
His niece Mary Trump confirms there's no strategy. It's all narcissism and sociopathy
Welcome to The Signorile Report, where you'll read hard-hitting political commentary and exposés; find interviews with newsmakers; hear me "engage" with right-wingers who call my radio program; and connect with like-minded, passionate people everywhere committed to fighting for equality and helping each other out.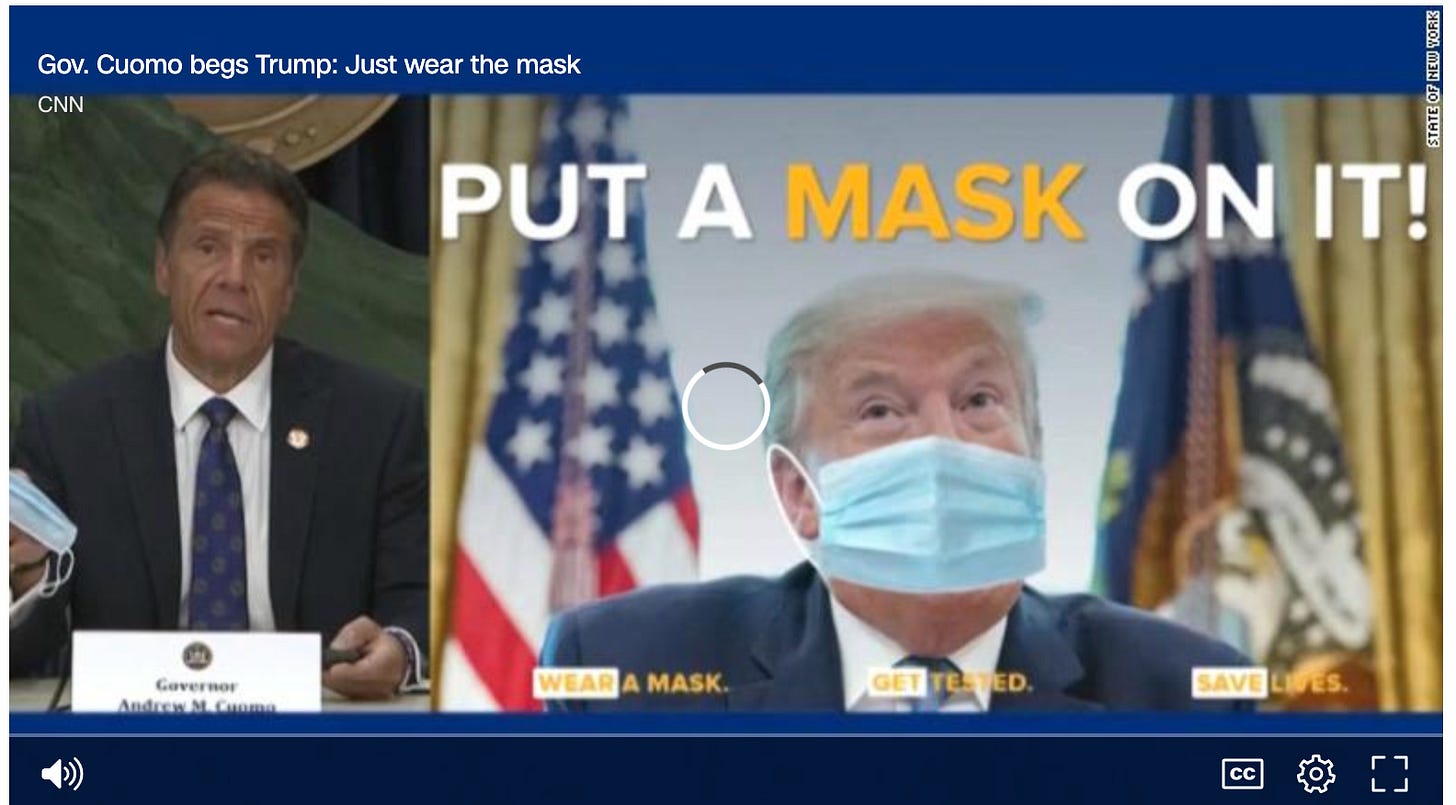 In recent days a new political strategy has been floated by White House officials to explain Donald Trump's refusal to seriously address the fact that coronavirus transmission is exploding out of control in the United States. Per the Washington Post on Monday:
White House officials also hope Americans will grow numb to the escalating death toll and learn to accept tens of thousands of new cases a day, according to three people familiar with the White House's thinking…Americans will "live with the virus being a threat," in the words of one of those people, a senior administration official.
That is pure evil, but it is actually a rationalization — not a strategy — for Donald Trump's inability to deal with the reality of the pandemic. He can't admit that he was wrong about the pandemic early on, nor that testing efforts were botched badly.
He refuses to put a mask on, believing it will make him look weak, and he refuses to strongly advocate everyone else wear a mask — which, to him, only reminds people that the pandemic is ever-present. He's even mocked those who wear masks. His only concern from the beginning of the pandemic has been the effect on the economy — which he's been deathly afraid will hurt his chances of re-election — and thus he downplays the pandemic while trying to force states to open up economies.
Now we have a lot more insight into his motivations from his niece Mary Trump, whose new book, Too Much and Never Enough: How My Family Created the World's Most Dangerous Man — which Donald Trump has tried to be prevent from being published — is being rushed out by Simon & Schuster, to be published on July 14.
Media organizations obtained copies today. Mary Trump is not only the niece of Donald Trump — daughter of his older, deceased brother, Fred Trump Jr. — but she is also a clinical psychologist. That gives her a unique and well-informed perspective. And it's one that backs up what a lot of us have believed since even before Trump was elected.
Mary Trump discusses how Donald Trump's entire life has been scarred — "destroyed"— by his overbearing and abusive father, preventing him from having the "ability to develop and experience the entire spectrum of human emotion." He felt inadequate in his father's eyes — and more importantly saw how his father treated his older brother's failures — and found that lying was "primarily a mode of self-aggrandizement meant to convince other people he was better than he actually was."
As the Washington Post reports, "Donald escaped his father's scorn and ridicule, Mary Trump wrote, because 'his personality served his father's purpose. That's what sociopaths do: they co-opt others and use them toward their own ends — ruthlessly and efficiently, with no tolerance for dissent or resistance.'"
Various media organizations are reporting on the details of Donald Trump's life as reported in the book — from his sister, a retired federal judge, calling him a "clown" in 2016, to his having allegedly paid someone to take his SATs in high school. One larger theme stands out, however, regarding Trump's response to the coronavirus pandemic: Mary's analysis that Donald Trump has no political strategy or guiding principles of any kind.
That's something many of us have believed for a while, even as some on the right and even in the media have cast him as some sort of political genius who knows what buttons to hit and who didn't just win the election by a fluke. Mary Trump explains that everything her uncle does is to satisfy his ego and that he's not capable of any larger strategic thinking, that he's just driven by momentary impulses and gratification.
"He doesn't," she writes, regarding whether he has a long-term political or ideological strategic plan. "Donald's ego has been and is a fragile and inadequate barrier between him and the real world, which, thanks to his father's money and power, he never had to negotiate by himself."
As Brian Stelter noted on CNN, she writes that "Trump's cruelty is meant to distract both us and himself from the true extent of his failures" and that "we must dispense with the idea of Donald being a strategically brilliant personality understanding media and politics. He doesn't have a strategy; he never has."
All of that underscores the danger we are in right now. Trump views the pandemic as something else to obscure — for the moment, with no larger strategic plan — hoping he can somehow pull out a win by making people accept mass death. As New York's Governor Andrew Cuomo and even many Republicans implore him to wear a mask, Trump will only further run away from that reality.
Those around Trump and those who benefit from his support certainly do have their own political strategies. White House adviser Stephen Miller is intent on pushing his white supremacist positions knowing full well the election may end with Trump thrown out; Miller wants to sow chaos for the next administration and hopefully put in place immigration policies that can't be turned back.
Republicans in Congress have their own political strategies for sickly backing Trump, too — though they miscalculated badly, as vulnerable GOP senators may now go down in flames, handing control of the Senate to Democrats. GOP governors in Texas, Florida and Arizona, seeing coronavirus cases surge and dangerously bowing to Trump for now on keeping economies open, have strategized that sticking with him helps them — again, at their own peril and, tragically, the peril of millions.
But for Donald Trump, as his niece Mary Trump confirms, there is no strategy — just dangerous, careening narcissism, as she writes in her book:
Nothing is ever enough This is far beyond garden-variety narcissism; Donald is not simply weak, his ego is a fragile thing that must be bolstered every moment because he knows deep down that he is nothing of what he claims to be…He'll withhold ventilators or steal supplies from states that have not groveled sufficiently. What Donald thinks is justified retaliation is, in this context, mass murder.
It's clear that no facts, no realities — including if he wins re-election — will change Trump's approach, even as we may see 100,000 cases of coronavirus per day soon, as Dr. Anthony Fauci has warned. That's the moment we're in right now. And it vividly further shows us that the only way to save ourselves is to defeat Trump in November.