Discover more from The Signorile Report
Exposing far-right extremism and corporate media complicity. News, politics, analysis, interviews by journalist & SiriusXM radio host Michelangelo Signorile.
Over 9,000 subscribers
Is putting a religious zealot on the Supreme Court really going to help Trump's re-election?
In 2016, with the help of the media, Trump kept some of his pandering under the radar. Now he can't.
Welcome to The Signorile Report, where you'll read hard-hitting political commentary and exposés; find interviews with newsmakers; hear me "engage" with right-wingers who call my radio program; and connect with like-minded, passionate people everywhere committed to fighting against hate and corruption. Subscribe now to get all of this in your email box a few times a week.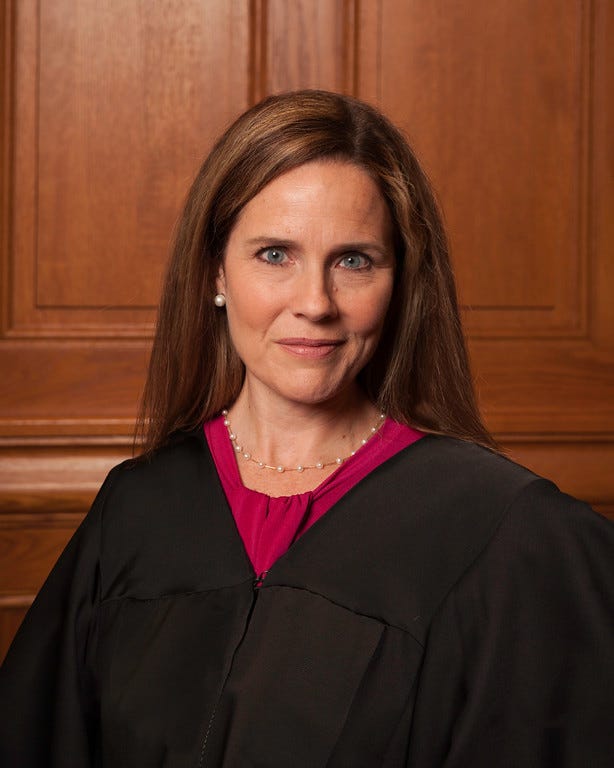 Judge Amy Coney Barrett photo: Rachel Malehorn
In 2016, Donald Trump got into the White House posing as a candidate who, as he said at the Republican National Convention just weeks before the election, would "protect our LGBTQ citizens." He unfurled rainbow flags at some of his events during the campaign, tweeted Pride messages and had an openly gay speaker at the RNC, tech billionaire Peter Thiel, who said, "I'm proud to be gay."
It was of course all theater covering up Trump's pact with the religious right. But it showed Trump surely believed that many of the people who supported his appeals on trade and other issues might be turned off by blatantly anti-LGBTQ rhetoric.
Now he's headed into his re-election down in the polls and distressingly trying to change the news from his abysmal response to the coronavirus pandemic. He's attempting to shift the election to his filling the Supreme Court vacancy left by the earth-shattering death of Ruth Bader Ginsburg with one of several avowed anti-LGBTQ religious bigots, including a top pick, Amy Coney Barrett, who took money from a legal group determined to overturn same-sex marriage and re-criminalize homosexuality in the the United States and around the world.
And some journalists and pundits think this is a good thing for Trump and the GOP in the upcoming election.
But it's hard see how screaming from the rooftops to his base — which was already energized, even if a few had wavered, though would likely come back — won't further scare off the very voters Trump desperately needs, including suburban women, white college-educated men and, well, a few people in every group Trump won in 2016 but who might be turned off by overt homophobia. And that's not to mention the alarm that is now raised over the threat to legal abortion and the Affordable Care Act in the middle of a pandemic among those very same voters.
Meanwhile, Trump is now thrown off of his "law and order" message, demonizing all protesters as violent, and other racist appeals to "suburban housewives," as he calls them. From the polling of recent weeks, this wasn't working anyway with those voters in the suburbs and beyond he needs. But if that didn't work, it doesn't seem that this is going to do it.
It is true that Trump needs every white evangelical and religiously conservative voter he can get out to vote. His campaign knew that in 2016, too, and he brought in a higher percentage of those voters than even Mitt Romney and George W. Bush. But Trump and his campaign did it quietly, to bring them in while also not frightening the other voters they coveted.
Trump made solid promises to the evangelical right, speaking at their conferences and to their groups, and giving interviews in their media. He told them he'd put judges on the Supreme court that would harm LGBTQ rights and even overturn marriage equality.
Of course he was allowed to do it quietly by a national mainstream media that not only didn't focus on those appeals but blew up Trump's superficial and high profile gay-affirming empty gestures, such as unfurling a rainbow flag or using the term, "LGBTQ." And we'll never forget the infamous New York Times piece in April of 2016 by Maggie Haberman that the campaign clearly planted — "Donald Trump's More Accepting Views on Gay Issues Set Him Apart in the G.O.P." — that set the narrative for the rest of the media.
Trump of course would go on to be the most detrimental president in history for LGBTQ people, stripping so many rights that were gained in years past and setting in motion more dangerous actions to come — following through on promises to anti-LGBTQ leaders that were hardly covered in the media during the campaign.
Even with all he's given them, however, support's been softening among religious right voters, who tend to be older Americans who are concerned about his response to the coronavirus. That's alarmed Trump's campaign. For that reason, as I wrote three weeks ago, there was no mention of "LGTBQ" anything at this year's RNC (nor has Trump tweeted out pride messages or unfurled rainbow flags.)
Still, the 2020 RNC stayed clear of overt gay-bashing, even if it had a few references to "religious liberty" that only evangelicals — and LGBTQ people — would pick up on. They knew that what worked in 2016 was keeping the homophobia on the down low.
But now Trump will be highlighting — rather than obscuring — his danger to LGBTQ people and other groups, since the next several weeks will focus on the hostile records, actions and words of his nominee. And all of the people on Trump's shortlist of nominees have terrible records not just on LGBTQ rights, but on abortion, health care, the environment and many other issues.
As polling analyst Dave Wasserman of the Cook Political Report explains, pushing through a Supreme Court nominee could divide Trump's base rather than help Trump and the GOP:
Namely, there's potential for the Roe v. Wade/abortion issue and the Affordable Care Act to drive a wedge in Trump's coalition. In 2016, much of his support came from voters who disliked Hillary Clinton, liked Trump's rhetoric on trade and immigration, but consider themselves pro-choice — especially non-evangelical, blue-collar women. And, these voters remain up for grabs in 2020.
Looking at data from 2016 on Trump's base of support, Wasserman noted:
Although Trump downplayed the abortion issue in 2016 in favor of more populist economic messages on trade and immigration, voters with mostly pro-choice attitudes made up more than a fifth of his support in plenty of battleground states: 25 percent in Iowa, 24 percent in Florida, Michigan and Pennsylvania, 21 percent in Arizona and 20 percent in Ohio and Wisconsin.
Though Wasserman didn't look at attitudes on LGBTQ rights it's likely the same or even much higher, in line with the shift in the country as a whole, where more Americans in Gallup polling —67% — now support same-sex marriage than support abortion rights.
It's horrendous that Trump is moving to replace a Supreme Court justice this close to the election and the GOP is 100% behind it, with their hypocrisy on full display because of how they prevented President Obama from replacing Antonin Scalia, who died nine months before the 2016 election. Senate Majority Leader Mitch McConnell is all about power and cares nothing about being called a liar or what his legacy may be.
The majority of Americans, 62% in an Ipsos poll out this morning, want the winner of the election to fill this vacancy. There was record-shattering fundraising for Democrats following Ginsburg's death, showing the enormous concern of Democrats and enthusiasm to vote, with all of our rights on the ballot.
We have to do everything to stop this confirmation or counter it, and there are options, as I noted on Friday, including grinding the Senate to a halt and planning on expanding the court. Meanwhile, as Trump is saying the quiet part out loud, no longer able to hide the hate, let's use it to our advantage and make sure he is trounced in this election.