Discover more from The Signorile Report
Exposing far-right extremism and corporate media complicity. News, politics, analysis, interviews by journalist & SiriusXM radio host Michelangelo Signorile.
Over 9,000 subscribers
Joe Biden actually has fostered "unity" -- just not to the elite Beltway media
Large majorities of Americans support what he's done in a week, even as a contracting, anti-democratic GOP wails.
If you've enjoyed the ad-free Signorile Report since it launched, or began reading recently, please think about becoming a subscriber supporting independent opinion journalism, for roughly $1.25 a week. Thanks!
In a country that is riven with disinformation, populated by dangerous cults embedded within politics and coming off of four years of an authoritarian president who sowed division and even violence, President Joe Biden has satisfied more Americans in a week than even the brightest expectations could imagine.
On issues from climate change and LGBTQ equality to mask mandates and relief for Dreamers, large majorities of Americans support Biden's executive actions.
"Polls conducted by Morning Consult and Ipsos since Biden's first day in office have assessed public opinion on 14 policies [that Biden implemented through the executive branch]," FiveThirtyEight reported. "In all cases, more of those polled favor the policies than oppose them, and a majority support nearly every policy."
The first batch of polls on Biden's approval show him with an average of 54% and with 35% disapproval, but that's a bit skewed by including the GOP-tilted Rasmussen poll. In a Morning Consult poll Biden tops 59% approval, with 32% disapproval and in a Monmouth University poll he's at 54% approval and with a very low 30% disapproval.
Again, considering the environment we've lived through over the past four years, these numbers are remarkable, even for just the first week. It's an upside down world from what we just experienced — numbers Donald Trump could only dream about.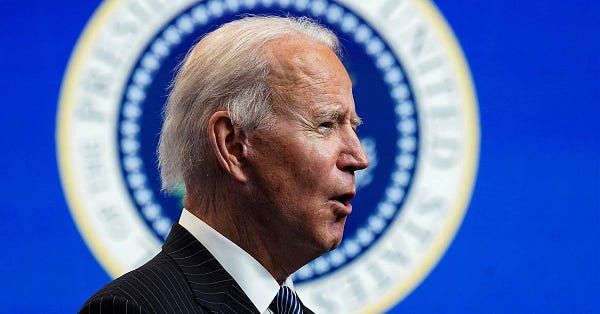 nbcnews.com
Biden moves to roll back Trump restrictions on abortion, Obamacare
The president took a slew of executive actions aimed at combating the climate crisis on Wednesday as senators on the Hill continued to squabble of the Trump impeachment trial. MSNBC's Brian Williams has details.
Of course, over time a lot will fluctuate, even a great deal, as happens with normal — that is, non-authoritarian, non-sociopathic and non-narcissistic — presidencies. But to listen to the Beltway media, which was weighing in as Biden was just days on the job, you'd think we were at Trump 2.0 in terms of division among the American people on issues Biden had taken on. As Eric Boehlert reported yesterday:
Just days into Joe Biden's first week as president, the Beltway press — reading off GOP talking points — was buzzing about "unity." Specifically, reporters wanted to know when the new president was going to make a grand gesture, or even a policy concession, to Republicans as an expression of his goodwill.

The overeager New York Times noted that in the first "hours" (!) of Biden's presidency, there hadn't yet been any "tangible actions" towards bipartisanship, such as adopting "Republican priorities." Instead, the Democrat's outreach had been "more about words." Days later at a White House press briefing, it was a Times reporter again who pressed the issue, demanding to know, "When are we going to see one of those substantial outreaches that says , 'This is something the Republicans want to do, too'?"
There appears to be no acknowledgement in the Beltway media analysis that the GOP is contracting and continues to fracture — with reports from Arizona over the weekend, for example, of a raucous GOP state party meeting and Republicans continuing to flee the party as it becomes more Trumpified — but also that unity on issues most Americans care about simply can't be measured any longer by what Republican leaders in Washington desire.
The Senate is split 50-50 but the 50 Republican senators actually represent tens of millions fewer Americans than the 50 Democratic senators. Alaska, Wyoming, and North Dakota, for example, each have less than 1 million residents but have two (Republican) senators in Washington, while California has a population of 39 million people with only two senators representing them.
How could anyone realistically measure Biden on "unity" by looking to 100 individuals in Washington who vastly underrepresent the majority of Americans? By 2024, two-thirds of Americans will be represented by just 30% of the Senate. And the House has been so gerrymandered by the GOP that it's representation there, too, is greatly skewed.
And yet, the Beltway press as well as the elite editorial boards are so yearning to go back to some semblance of a "normal" world — which never really existed, at least not in about 40 or so years — in which the parties supposedly work together in bipartisan bliss on behalf of the American people.
Last night the New York Times published a bizarro editorial, "Ease Up the Executive Actions, Joe," in which the editors opined that "[u]ndoing some of Mr. Trump's excesses is necessary, but Mr. Biden's legacy will depend on his ability to hammer out agreements with Congress." As if Biden's "legacy" is more important right now than steering the country — the world — back from the dangerous brink to which Trump brought it.
Undoing just "some of Trump's excesses" by executive action isn't remotely enough, especially when we now have an anti-democratic opposition party that isn't interested in "agreements" and is instead excusing an insurrection, refusing to impeach the president who incited it and emboldening those among them, like Missouri's seditious Senator Josh Hawley, who fed the Big Lie of massive voter fraud.
The GOP House Minority Leader, Kevin McCarthy, is still running to Mar-a-Lago to kiss the ring of the twice impeached, one-term loser president, while staying relatively silent about a QAnon supporter in his midst, Congresswoman Marjorie Taylor Greene, who, we learned in recent days, backed executing members of Congress in the recent past. (McCarthy said he would "talk" with her.) There's a move among Trump-supporting GOP House members to oust Wyoming Congresswoman Liz Cheney — a leader in the GOP minority — for voting to impeach Trump, but no effort among Republicans to expel Greene, who supported people who expressed a desire to kill House Speaker Nancy Pelosi.
How could the New York Times really believe that the GOP leadership is interested in working with Democrats when it is hostage to this kind of extremism?
The Washington Post editorial board showed it is in a similar bubble with its own editorial published last night headlined, "The best way to provide more pandemic relief is through bipartisan agreement."
What world are they living in? The GOP has shown no interest in passing a relief bill that is remotely adequate; many members don't think we need any further stimulus at all. Sure, Biden, would like to have Republicans and it's worth trying, but moving to budget reconciliation — which will need only 51 votes — to save millions of Americans and the rapidly shrinking economy is an emergency priority. Biden and Democrats can't be stymied by Republicans who think nothing of using every underhanded, anti-democratic move to get what they want.
The vast majority of Americans support getting pandemic relief immediately, and the Senate GOP simply doesn't represent them. Americans are not divided on that issue, or a whole host of issues Biden is confronting head on. To claim that Biden, by refusing to bow to the intractable, anti-democratic and extremist minority, isn't fostering "unity" is disingenuous and everything wrong with much of the media.