Discover more from The Signorile Report
Exposing far-right extremism and corporate media complicity. News, politics, analysis, interviews by journalist & SiriusXM radio host Michelangelo Signorile.
Over 9,000 subscribers
Why Trump's order to open churches won't boost his poll numbers among religious voters
He's sinking among conservative Christians, but not because churches are closed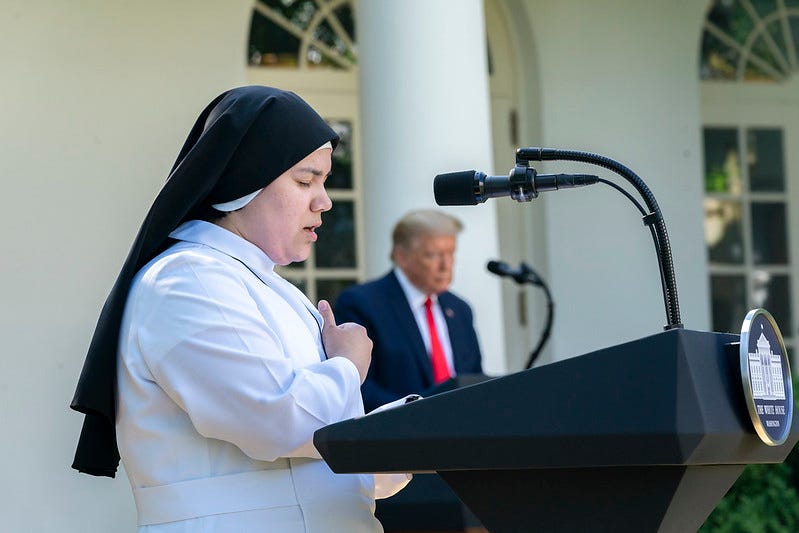 The White House and the Trump campaign are praying that things aren't spiraling downward with Trump's most devout religious supporters.
Last week, we saw Donald Trump's ridiculous, desperate call for churches, synagogues and mosques to be re-opened across the country, including his threat to override the orders of governors — even though he has no power to do that.
Put aside for a moment the fact that many states, particularly where the great many of Trump's hard-core conservative Christian voters reside, have allowed houses of worship to resume services — even as health officials warn these venues present a challenge in stopping transmission of coronavirus. We learned on Friday, after Trump's announcement, that Trump's goal is political, because his polling is cratering among white evangelicals and white Catholics. Politico called it "staggering," noting that those in Trump's campaign were freaking out:
Another person close to the campaign described an April survey by the Public Religion Research Institute, which showed a double-digit decline in Trump's favorability among white evangelicals (-11), white Catholics (-12) and white mainline protestants (-18) from the previous month, as "pretty concerning."
Trump's overall favorability numbers have dropped. And it's likely that the numbers are falling among religious right voters not because churches are closed but because these voters tend to be older, and Trump is plummeting among older voters in general.
While the political groups at the center of Trump's religious nationalism movement, like Family Research Council, have been joining the anti-lockdown calls, demanding churches re-open, that issue isn't animating the rank and file. Most religious people of all denominations, and most church leaders, would rather be cautious and wait it out, as many are holding off re-opening even in places where orders have been lifted.
In the Pew survey, majorities of white evangelicals and white Catholics believed their governors were correct in imposing stay-at-home orders and they are more afraid of restrictions being lifted too soon than going on too long. Most of these voters are older and wary, clearly seeing coronavirus disproportionately affect them. Older voters are peeling away from Trump. Joe Biden is leading with seniors, the first Democrat to do so in presidential election polls since Al Gore in 2000. They disapprove of Trump's response to coronavirus, as detailed by the Christian Science Monitor:
According to a recent Morning Consult poll, Mr. Trump's approval rating among voters over the age of 65 dropped 20 points between March and the end of April, making seniors more critical of the president's performance than any other age group aside from 18- to 29-year-olds. Much of that decline seems directly related to the virus, which so far has posed a far more serious health threat to older people.  
Opening churches will satisfy a few of the most extreme among the religious right, but when an issue is suddenly affecting them personally, most of the these voters care about what the rest of Americans care about, and certainly what most other older voters care most about: Getting mass testing and contact tracing, opening up slowly, and not sacrificing their lives for the economy and Trump's re-election.
Of course, the election is five months away. Trump will have much time to push more abortion restrictions and attacks on LGBTQ rights — and nominate more judges who will do both — to satisfy religious conservatives in the end, and will no doubt see his support among the group rise in polls.
But whether they come out in the great numbers he needs to win will turn not on a push to open churches but on how he continues to respond to the pandemic (including his attacks on mail-in voting, which these voters would likely favor in a pandemic). And so far, it doesn't look like he's going to change from his reckless course.