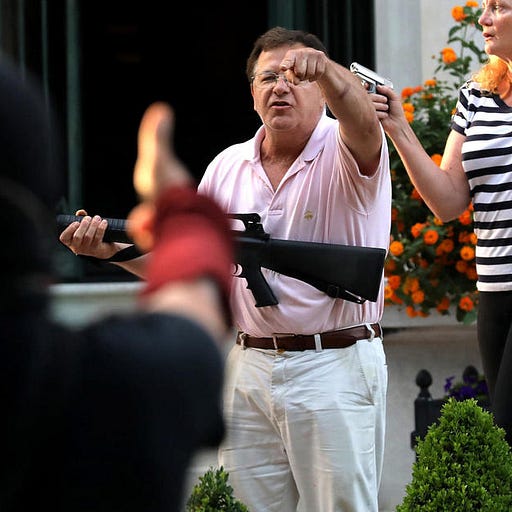 Aug 9, 2021 • 7M
Caller claims McCloskeys didn't break law by pointing guns at protesters
Greg from Tennessee said they only pleaded guilty because it would have cost too much to defend themselves. Yeah, right.
If you've been enjoying The Signorile Report, consider subscribing for just $5.00 per month and supporting independent, ad-free opinion journalism. Thanks!
Last week on my SiriusXM show I discussed how the GOP governor of Missouri pardoned Mike and Pat McCloskey, the infamous St. Louis couple who eventually got a deal and pleaded guilty to misdemeanor charges after they brandished weapons outside their home — including an AR 15 rifle— as peaceful Black Lives Matter protesters marched by, heading to the mayor's home.
Greg from Tennessee claimed I made assertions that were "incorrect," saying they didn't commit a crime because "American citizen's who can legally own firearms — or not, for that matter — are allowed by law to protect themselves if they feel that they are under immediate threat."
"Why did they then plead guilty to a crime?" I asked.
"That's a fair point," Greg said, and the meandered into claiming that "the way our legal system is" it was "definitely going to be easier" and "less costly" to do "what they did," as if this poor, downtrodden couple didn't have the means or the support.
This is, of course, ludicrous because the McCloskeys are not only well-off attorneys; they became right-wing celebrities, speaking at the Republican National Convention, being feted by Donald Trump and had more than enough benefactors to pay for their defense. And the special prosecutor determined there was no threat from the protesters, who were peaceful and none carried a weapon.
No, the truth is the McCloskeys broke serious laws, clearly and undeniable. And they pleaded guilty because they cut a deal, having been charged with enough crimes — which they committed — that could have had them spending time in jail.
They'd been indicted by a grand jury on felony charges of unlawful use of a weapon and evidence tampering. They walked off paying only fines. And that's white privilege. (They agreed to give up their weapons — and I was mistaken with the caller, believing they were allowed to keep their weapons. But at any rate, they are now suing to get their weapons back since they've been pardoned.)
Greg then tried to pose questions to me — rather than answer my simple questions about both Governor Mike Parson and Donald Trump pardoning people who commit serious crimes — and still tried to argue they committed no crime.
It's a classic example of how the Trump cult believes they are above the law and only Republicans leaders should decide what is a crime — and pardon people for them.
Listen in and let me know your thoughts.
Thanks for reading and following The Signorile Report. Most of it is free to read, but if you'd like to support independent, ad-free opinion journalism (and connect in great discussion threads), please consider becoming a paid subscriber for just $5 per month or $50 annually.