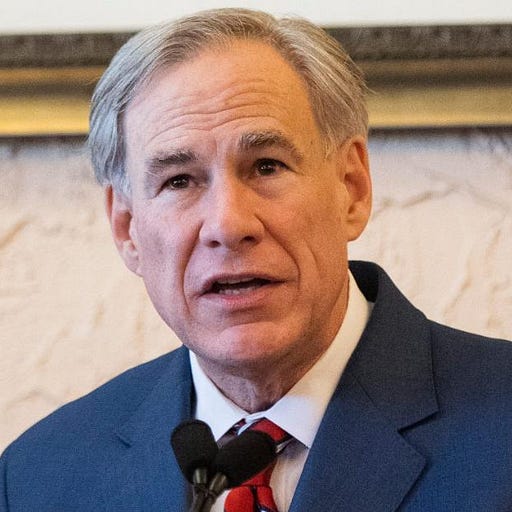 Mar 8, 2021 • 4M
Caller dumped TX gov over power failure -- flips back after mask mandate lifted
Al from Texas lost power, told friends: "I can't vote for this guy again." But now he's "ecstatic" over Abbott ending masks: "I can't wait to vote for him again."
To long-time readers of The Signorile Report, and to those who've newly signed up, please consider subscribing for $5 a month and supporting independent, ad-free opinion journalism. Thanks!
At first I thought this was a put on, a far-right nutty supporter of Governor Greg Abbott of Texas just engaging in some trolling. Maybe an anti-mask zealot.
After listening again, however, I'm thinking that, no, it's for real. (And that, yes, he's nonetheless a nutty Abbott supporter and an anti-mask zealot.)
But whatever — it's whackadoodle.
Al called in to my SiriusXM show during a discussion about Abbott lifting the mask mandate, which caused outrage across the country.
Al explained that a few weeks ago he decided that he couldn't possibly vote for Abbott again — after previously voting for him — after the monster winter storm that knocked out power across the state, largely because of bad, greedy decisions by Abbott and the GOP for years. Al was sitting there with no power or water, and telling friends there was no way he could vote for this guy again. I thought that was a good assessment, and was glad to see Republicans can change their minds.
"I spent three days in a hotel, but I don't want to spend three years in a mask."
Al then surmised that Abbott lifted the mask mandate to change the subject and to assuage the base of the GOP in Texas (which I'd actually suggested to him, because I think that's true).
And, Al said, it worked — because now Al totally supports the governor again, and was "ecstatic" as he walked Dallas-Fort Worth International Airport maskless along with many others.
"I spent three days in a hotel [because of the power outage], but I don't want to spend three years in a mask," he said. "He's won my vote in 2022 enthusiastically."
I just had to stop him and tell him that he is an "idiot" and that his power would go out again, and his pipes would freeze again, if he helps re-elect Abbott, and, that, "frankly you deserve it."
Listen in and let me know your thoughts!