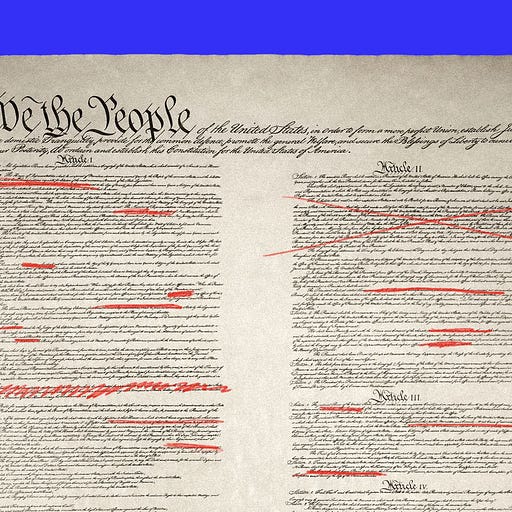 Apr 29, 2021 • 19M
The extremist attempt to rewrite the U.S. Constitution
Travis Waldron of HuffPost spoke with me about a long-time radical right-wing effort and how it's "close to coming true"
If you've been enjoying The Signorile Report, consider subscribing for just $5.00 per month and supporting independent, ad-free opinion journalism. Thanks!
HuffPost reporter Travis Waldron wrote a story this week about the alarming attempt by some right-wing radicals to rewrite the Constitution by triggering a provision in Article V of the Constitution that allows a constitutional convention to be called if 34 states demand it.
With states increasingly controlled by Republican legislatures and governors, the possibility is more real than ever. Still, Waldron points out, there's been pushback or indifference by some Republicans, including by some Trump loyalists. (And a constitutional convention has also been something some on the left have advocated for in the past as well.)
But at a time when an authoritarian former president who incited an insurrection is leading the Republican Party — a man who would certainly support an effort to take away freedoms and protections in the Constitution, including around speech and equal protections — I think we all agree anything can happen.
As Waldron writes:
Opponents…see a far more nefarious plot: a master class in astroturfing that could open the entire document up to a radical rewrite meant to serve the right-wing corporate interests that already dominate our politics, especially at the state level. The convention, they argue, could lead to the demolition of everything from the social safety net and environmental protections to civil rights laws. Or maybe even the Constitution itself.
I spoke with Waldron on my SiriusXM show about why this effort is closer to happening than it's been in the past, and exactly what the process is. It's something very important to be focused on. Listen in and let me know your thoughts.