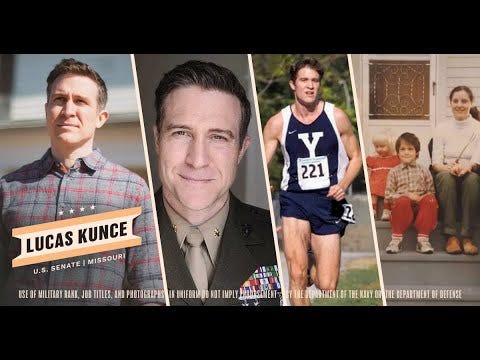 Feb 25, 2022 • 16M
Winning in 2022: Candidate spotlight on Lucas Kunce
The Missouri Democratic Senate candidate is a self-described populist who's creating fear among Republicans in a state that isn't always reliably red.
If you've valued reading The Signorile Report, consider becoming a paid subscriber for just $5 a month or $50 annually, and supporting independent, ad-free opinion journalism. Thanks!
This is part of a series focusing on Democratic candidates Im interviewing on my SiriusXM show as Democrats fight to keep the House and Senate in the 2022 midterms.
Missouri's GOP Senator Roy Blunt is retiring. And Democratic candidate Lucas Kunce, a Marine veteran running as a populist, is electrifying voters, taking on corporate greed and corruption.
The attorney and Director of National Security at the American Economic Liberties Project, whose mission it fighting against corporate monopolies and economic inequality, is making Republicans in Missouri nervous, particularly as their own state party, like that of the national GOP, continues to fracture amid Donald Trump's demands of full allegiance. Kunce has raised more money than any of the Republicans vying for the open U.S. Senate seat. A Democratic win would be a big upset and surely help Democrats retain the Senate.
A recent GOP poll showed Kunce within 4 points of beating former Missouri Governor Eric Greitens, who announced he's running for the open seat. Greitens resigned as governor in 2018 while facing criminal corruption charges and accusations that he was trying to blackmail a woman with whom he had a sexual affair, an allegation that an investigatory committee in the Missouri Legislature later determined was credible.
Greitens is a hard-core Trumpist, though Trump hasn't endorsed a GOP candidate running in the primary. Republican leaders in the state are so scared of Greitens on the ballot that even Missouri's Senator Josh Hawley, Mr. Insurrection himself, decided to endorse a candidate even though he'd initially said he wouldn't. He backed Missouri Congresswoman Vicky Hartzler, a viciously anti-LGBTQ House member who, like all the candidates in the race, is as full-on MAGA as Greitens, having voted against certifying the 2020 election.
Kunce's powerful economic messages and his focus on the urgency of dealing with climate change are resonating with Missourians. And having served in the Marines working with the Joint Chiefs on issues related to Russia, he'd be a senator who has experience focusing on both domestic and foreign policy issues that the U.S. faces.
Missouri has been a solidly red state in recent presidential elections, but has elected Democrats to statewide office, like Senator Claire McCaskill, who served from 2007 until 2019. Democratic Secretary of State Jason Kander, challenging Blunt in 2016, came within three points of ousting the GOP senator even as Donald Trump won the state by 16 points that same year. So, a dynamic Democrat who connects with voters can certainly win in Missouri.
Listen in to my conversation on my SiriusXM show with Lucas Kunce, and check out his website.