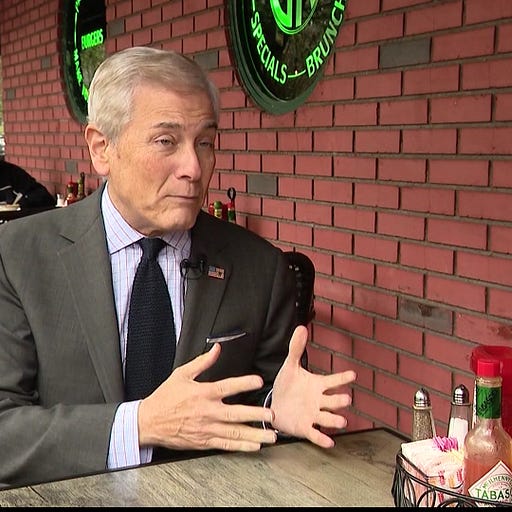 Nov 1, 2022 • 16M
Winning in 2022: Candidate spotlight on Robert Zimmerman
It's a first in politics: two openly gay candidates running against each other for a House seat. But Republican George Santos is an election-denying Trumpist who supports the "don't say gay" law.
This is part of an ongoing series focusing on Democratic candidates I'm interviewing on my SiriusXM show as Democrats fight to keep the House and Senate, and even gain seats, in the 2022 midterms. (Read some other recent entries here, here and here.)
If you've valued reading The Signorile Report, consider becoming a paid subscriber and supporting independent, ad-free opinion journalism. Thanks!
Democrat Robert Zimmerman is running for an open U.S. House seat in New York's 3rd Congressional district, a seat currently held by retiring Democrat Tom Suozzi in northern Nassau County on Long Island, and, after redistricting, parts of the borough of Queens in New York City.
It's vital that Democrats keep this seat blue, but the race has been close in what's considered a suburban swing district. A September poll has the race neck and neck, while the Cook Political Report rated it leaning Democratic, which means Zimmerman is perceived as having an edge but that it's competitive.
Zimmerman grew up on Long Island, and is a long-time fighter for progressive values, working in movements for justice — from labor rights to anti-war protests — and working as an aide to members of Congress, as a Democratic strategist and as a TV commentator.
And he's openly gay. As noted on his website, where you can check out more about him:
Robert, like many other closeted gay young men, struggled to find his voice. Coming of age in the suburbs was a lonely and isolating place. A trusted educator even once assured him there were doctors who could "make you well." Conversion therapy was never an option, but the notion of "not being well" was tough to shake and helped Robert find his voice. He began to use it for others that society marginalized, left out, and refused to recognize.

Like so many, Robert joined arms to protest oppressive wars, march for civil rights, demand social and environmental justice, and advocate for causes that mattered to the community.
His opponent, Republican George Santos, is also openly gay, and the race has been noteworthy because it's the first time two gay men face off for a House race.
But that's where the commonality stops, as Santos is complete and total MAGA. He's a Big Lie-promoting extremist who actually praised the January 6th insurrectionists, cheered the Supreme Court in "correctly" overturning Roe v. Wade and defends Florida's "Don't Say Gay" law.
Yep, a gay man supporting a heinous law demonizing his own kind. You can watch his video on Facebook to see if for yourself. This is the most grotesque kind of self-loathing we've seen — and someone like this should not be anywhere near the levers of political power.
Listen to the interview with Robert Zimmerman to hear about the work he's done and what he'd do if elected, as well as about the dangers of his opponent. And check out his website, where you can also help out in this close race.