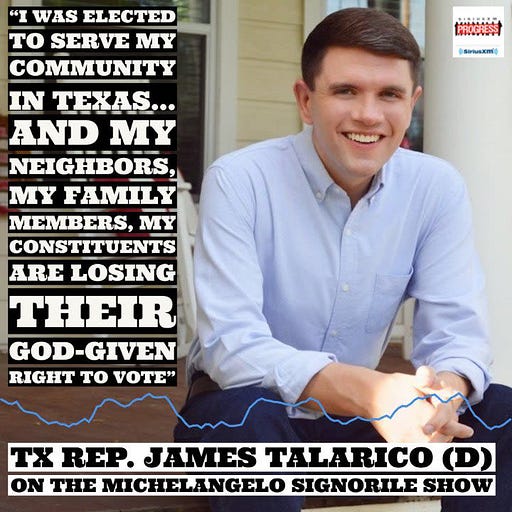 Jul 15, 2021 • 16M
A Texas hero explains the urgency of the moment
James Talarico, one of Texas Democrats shining a light on GOP authoritarianism, explains, "We are out of time in Texas."
"For Democrats in Washington to be fiddling while Rome burns is incredibly frustrating and it's frighteningly, frankly. To be facing this kind of unprecedented assault on our democratic system and have Democratic leaders not respond in kind by saving our democracy doesn't bode well for our future prospects."
Those are the words — and you must listen to the full interview above — of Representative James Talarico, one of the Texas Democrats, heroes of democracy and members of the Texas Legislature who fled the state for Washington DC so as not to give Republicans in the legislature a quorum to vote and pass horrific voter restrictions.
I keep hearing from commentators on television, when they talk about or interview some of these Democrats, "What is the end game? What is your plan?" The implication is that the GOP will win in the end, as the governor will just keep calling special sessions until there is a vote. That may be true, and the governor may also follow through on his threat to arrest these brave Democrats.
But Talarico, who came on my SiriusXM show yesterday, agreed with me at the outset of the interview that this is the end game. Bringing attention to the issue is the end game. Taking the issue to Washington and putting pressure on Democratic leaders is the end game. And using every ounce of their energy, leaving their families and risking arrest to show other Democrats how it's done — that is the end game.
Anyone who is asking that question doesn't understand the dire emergency we are in.
Talarico is a very passionate and powerful spokesperson, and Texans — and all of us— are lucky to have him. Again, listen to the entire interview. In the short clip below he explains why he and other Texas Democrats are sacrificing so much to do this. But the full interview is something you really should listen to as he shows what enormous impact their actions have had and why it's important to stand up.
And as an extra bonus, watch James Talarico in this clip below take on a Fox News propagandist and wipe the floor with him.
This is how it's done folks. Let me know your thoughts.