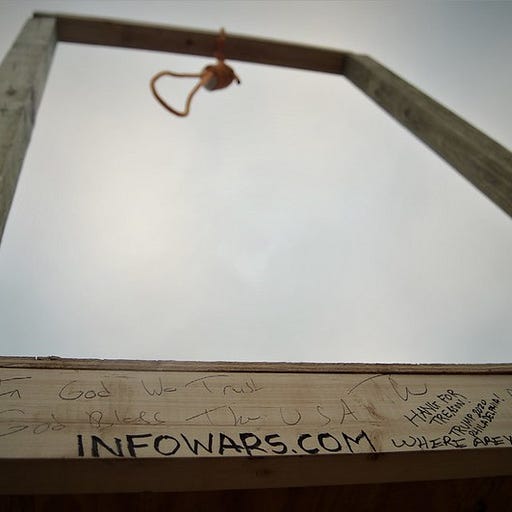 May 17, 2021 • 6M
Caller says there was no gallows at insurrection
George in Michigan first said there was no insurrection, then said no police officers were hurt or died, then said he didn't "see" a gallows for Mike Pence
If you've been enjoying The Signorile Report, consider subscribing for just $5.00 per month and supporting independent, ad-free opinion journalism. Thanks!
As I was playing horrendous audio last week on my SiriusXM show of GOP members of Congress denying at a hearing that there was any insurrection on January 5th and comparing what happened to a "tourist" event, George from Michigan, a Trumper, called the program.
The called showed how much GOP House members are giving talking points to people who want to believe and promote the Big Lie — and also want to deny the January 6th attack on the Capitol.
George spouted the line from the Insurrectionist Caucus in Congress, claiming there was no insurrection — that it was a bunch of "idiots" and nothing organized.
George then claimed that nothing happened to any of the police officers, and that officer Brian Sicknik wasn't killed due to the insurrection and that any officers who had their weapons taken away — beaten by the mob with their own batons — were "idiots."
When I pointed out that the insurrectionists were looking to hang Vice President Mike Pence — and had brought a gallows — he said he didn't "know that" to be true.
Then he argued I was putting words in his mouth, that he didn't "see" the gallows so didn't know it was true or not — even though the images have been broadcast around the world.
This is the demented brainwashing that has overtaken much of the Republican Party. And it's sick and dangerous. As he kept trying to change the subject I had to just call out his bullshit each and every time, as he got more confused and belligerent.
Listen in and let me know your thoughts.
Hi all, and thanks for reading and following The Signorile Report. Most of it is free to read, but if you'd like to support my writing and independent, ad-free opinion journalism (and join great discussion threads), please consider becoming a paid subscriber for just $5 per month or $50 annually.