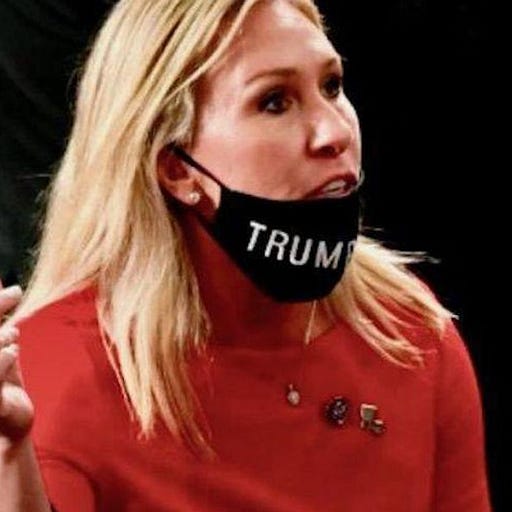 Apr 25, 2022 • 6M
Trumper: Marjorie Taylor Greene would be "fantastic" as House speaker
Or Gaetz or Boebert, Jeff from Atlanta said, calling Kevin McCarthy a "RINO" who "true conservatives" don't want
Jeff from Atlanta, clearly a card-carrying Trumpist, called my SiriusXM show as we were discussing the McCarthy tapes last week, which revealed the minority leader lied and had supported Donald Trump resigning.
Let's just say Jeff was the brightest bulb among the MAGA minions.
Calling McCarthy a RINO (Republican in name only), he tried to change the subject to Hunter Biden — but of course.
I had to to shut that down quickly, as well as his name-calling of Nancy Pelosi.
Getting him back on who will be House Speaker if Republicans win, and if McCarthy will be challenged, I asked him about the possible candidates, throwing out a few names after he at first couldn't name any.
Jeff said Marjorie Taylor Greene, the QAnon cultist who testified last week that she couldn't remember anything surrounding January 6th, would be "fantastic."
Yes, the same Marjorie Taylor Greene who lied on the stand last week, saying she thought Black Lives Matter or Antifa were breaking into the Capitol on January 6th but was revealed today to have texted Trump's chief of staff on that day, panicked and trying to get Trump to "calm down people" among his supporters who were attacking the Capitol.
Matt Gaetz? "Sure!" exclaimed.
Madison Cawthorn. "Who? I'm not familiar with him."
Any other candidates? [Lauren] Boebert would be fine."
Jeff then tried to change the subject to Black Lives Matter and where the "investigations" were of that group. I had to explain that there's no investigation of any other group trying to overthrow the government because only those who attacked the Capitol on January 6th have tried to overturn the election and the government.
Soon, I had to just let him go but told Jeff I did appreciate the "humorous" conversation.
This one just completely revealed the caliber of idiocy we're dealing with on the right, and I'm glad I allowed him to just undo himself.
Let me know your thoughts!