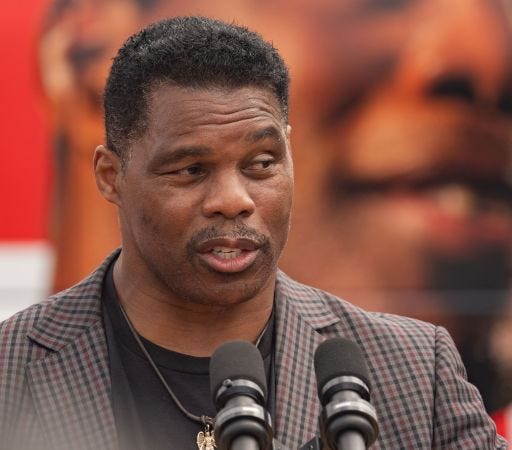 Oct 19, 2022 • 6M
Walker supporter demands proof -- though Walker admitted he had a child
Billy from Oklahoma was very confused when he called my show. And it only underscores that Herschel Walker's lies are even confounding his supporters.
If you've valued reading The Signorile Report, consider becoming a paid subscriber and supporting independent, ad-free opinion journalism. Thanks!
In a discussion on my SiriusXM show about the Hershel Walker denying he paid for a former girlfriend's abortion, Billy from Oklahoma called in to defend Walker.
He demanded to see the proof that Walker had a child with the same woman as well, a fact that the woman reported days after Walker denied paying for the abortion.
The only problem with that is that Walker admitted he did have a child with the woman — just not the abortion.
In fact, Walker has admitted to being the father of all the children who've surfaced who are reported to be his children.
So then Billy tried to shift it to the abortion, and the proof of it — which Walker does deny — but there's the receipt from the abortion clinic and Walker's personal check to the woman a few days after.
Walker first denied sending the check, but on NBC this week when it was presented to him, he acknowledged it was his check — after first questioning it. But, he said, it didn't prove anything because it's not unusual for him to send the woman money because she's the mother of his child.
The problem with that is that he had the child with the woman years after the abortion.
But back to Billy, the caller to my show. He was an example of how Walker is even making it difficult for his supporters defend him. Even as I explained it all to him, he still couldn't wrap his head around what I was saying, and was still asking for proof of that Walker fathered the child.
I think you'll find this one quite amusing, though it's awfully sad.
Listen in and let me know your thoughts!