It was the bible photo-up that did it.
Welcome to The Signorile Report, where you'll read hard-hitting political commentary and exposés; find interviews with newsmakers; hear me "engage" with right-wingers who call my radio program; and connect with like-minded, passionate people everywhere.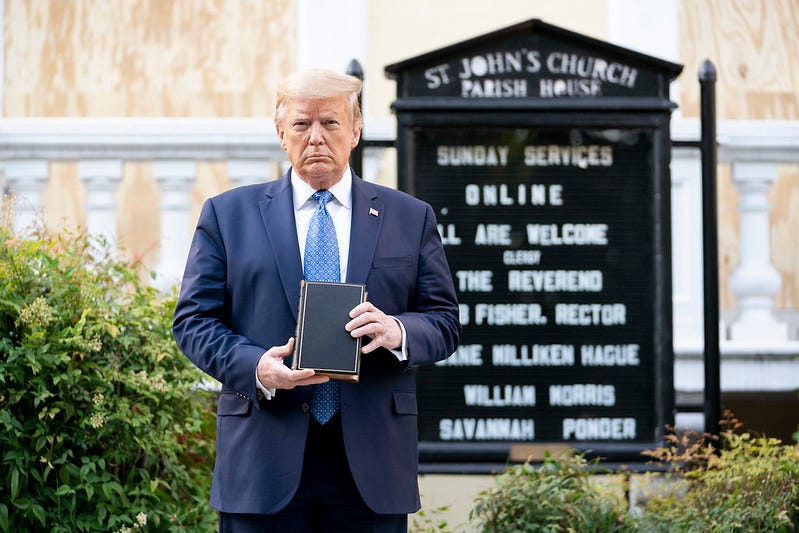 Happy Juneteenth to everyone! Let's learn as much as we can about this day in history that commemorates the end of slavery, educate others and let this day be a wake up call to white America, as Brandon Tensley writes.
I've owed you guys this call from the last week to my SiriusXM show — and mentioned the call in a few posts — so here goes.
Mike from Pennsylvania, a hardcore conservative Trumper's Trumper who has called my show frequently from before Trump's 2016 election, has flipped on Trump. This is in line with other callers to the show who had friends and neighbors flip, and with other reports we're seeing, and even in a Michigan poll, pointing to Trump's bible photo-op, and tear-gassing of protesters, as a breaking point for some Trump supporters.
Why that and not the myriad of other ghastly things Trump has done? It's horrific enough to me that people stick with Trump, so whenever they have a breaking point it's good, no matter how it's hard it is to believe they stuck so long.
Now, Mike still weighed in on defending the police in their actions against protesters — and I had to school him hard on that — but it was quite fascinating that this Trumper's Trumper has jumped ship on the cult leader.
Will it last? Let's hope so, but let's not count on it. Trump is reeling — let's double down and continue to pummel him until we beat him at the ballot box this November. Listen in to the call, meanwhile, and let me know your thoughts and if you're hearing similar things.